The Ultimate Jaco Bachelor Party Experience: Unleashing Unforgettable Adventures
Planning a bachelor party is exciting, and finding the perfect destination to celebrate this milestone is essential. Nestled along Costa Rica's stunning Pacific coast, Jaco is an unparalleled choice for an unforgettable bachelor party experience. With its vibrant nightlife, breathtaking beaches, thrilling activities, and myriad entertainment options, Jaco promises an adventure-filled celebration like no other. In this comprehensive guide, we will explore the best of Jaco, unveiling an array of activities, accommodations, and tips to curate the ultimate Jaco bachelor party extravaganza. learn more here https://jacocasa.com/jaco-bachelor-party/
1. Embracing the Jaco Vibe:
1.1 Vibrant Nightlife:
Jaco boasts a bustling nightlife scene that caters to partygoers, with an array of bars, clubs, and lounges. From energetic dance floors to laid-back beachfront venues, you'll find an abundance of options to dance the night away and raise a toast to the groom-to-be.
1.2 Epic Beach Parties:
The stunning beaches of Jaco set the stage for unforgettable beach parties. Gather your group, soak up the sun, enjoy refreshing cocktails, and partake in beach volleyball and water sports, or unwind on the pristine sandy shores. Whether you seek relaxation or high-energy celebrations, Jaco's beaches offer the perfect backdrop.
2. Thrilling Adventures:
2.1 Surfing and Water Sports:
Jaco is renowned for its incredible surf breaks, attracting surf enthusiasts from around the world. Arrange surf lessons or indulge in thrilling water sports such as paddleboarding, jet skiing, or parasailing. These activities will infuse your bachelor party with excitement and adrenaline.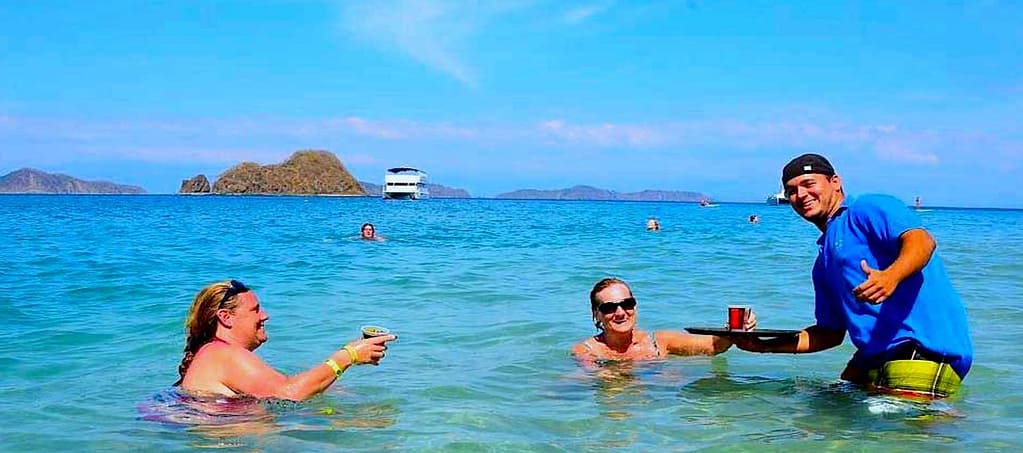 2.2 Canopy Tours and Zip-Lining:
For adventure seekers, explore the lush rainforests surrounding Jaco through exhilarating canopy tours and zip-lining. Glide through the treetops, enjoying breathtaking views and bonding with your friends amidst the wonders of nature.
2.3 ATV Tours and Off-Roading:
Take your bachelor party to new heights with ATV tours and off-roading adventures. Embark on thrilling off-road journeys, conquer rugged terrains, and discover hidden gems while enjoying the adrenaline rush that comes with these exciting activities.
3. Unwinding and Pampering:
3.1 Relaxing Spa Experiences:
Indulge in well-deserved relaxation by pampering yourselves at Jaco's luxurious spas and wellness centers. Treat your bachelor party entourage to invigorating massages, rejuvenating facials, and soothing therapies to unwind and recharge.
3.2 Private Pool Parties and Villa Rentals:
Enhance the bachelor party experience by renting a private villa with a pool. Organize poolside parties with music, BBQ, and cocktails, creating a private oasis where you can bond, celebrate, and make lifelong memories.
4. Where to Stay:
4.1 Luxury Resorts and Hotels:
Jaco offers an extensive range of accommodations, including luxurious resorts and hotels. Select from beachfront properties, boutique hotels, or all-inclusive resorts, ensuring comfort, convenience, and a prime location for your bachelor party celebrations.
4.2 Vacation Rentals and Condos:
For larger groups, consider renting vacation homes or condos that provide spaciousness, privacy, and the flexibility to customize your party experience. These options often include amenities such as private pools, entertainment areas, and fully-equipped kitchens.
5. Safety and Practical Tips:
5.1 Transportation Services:
Arrange reliable transportation services to ensure safe travels throughout your bachelor party celebrations. Options include private shuttles, chauffeur services, or renting cars to explore the area at your own pace.
5.2 Engage Local Event Planners:
Consider enlisting the expertise of local event planners who specialize in bachelor parties. They can assist with organizing activities, recommending venues, and coordinating logistics to ensure a seamless and memorable experience.
Conclusion:
Jaco sets the stage for an unforgettable bachelor party, offering an intoxicating blend of vibrant nightlife, thrilling adventures, stunning beaches, and luxurious accommodations. Jaco has it all, whether you seek adrenaline-pumping escapades, beachside relaxation, or unforgettable celebrations. So, gather your friends, embrace the spirit of adventure, and embark on a journey to create lifelong memories during the ultimate Jaco bachelor party experience.